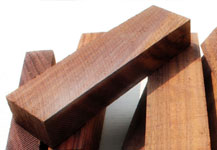 Traditionally, the widely used material to make pens has been wood since it is extremely versatile and makes a highly durable pen barrel. Wood is a better choice for pens sheerly because of the wear and tear like in and out of pen stands, drawers, pockets and the other corrosive conditions it is subjected to. Wood also carries that classic look and makes the "green" statement as it is a sustainable resource, besides the warmth it carries while a person handles it.
East Indian Rosewood has been used for decades in making musical instruments and sure it turns well and makes a spectacular pen.
We can supply custom made pen blanks to suit customer needs.